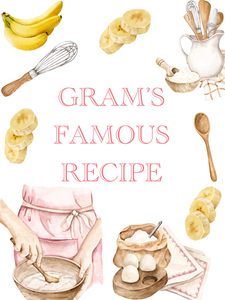 A scent inspired to bring you back to cooking with your Gram in the kitchen with just one sweet smell. Everyone's Grandma has a famous recipe that includes bananas! Whether it is Banana Muffins, Banana Bread, Banana Pudding or Banana Pancakes this incredible scent with transport you back to your favorite memories of making them with your Gram!
Each candle is made with coconut, apricot and soy waxes that are gluten free, toxin free, phthalate free and come from renewable sources. We hand stir in the highest concentration of fragrance oils making these luxurious scents radiate through the your entire room! The lead-free cotton wick or wooden wick won't burn out and is secured in place in the vessel to ensure a consistent and even melt pool. To prevent wax tunneling burn candle each time until wax pool reaches jar edges. 
Burn Time:
8 oz - 40-60+ hours 
Wooden Wick - 55 - 75+ hours
Candle Safety:
To prevent fire and serious injury:
Always trim wick to 1/4 inch before lighting. Keep wax pool free of debris at all times. Never burn any candle for longer than a 4 hour period. Always burn any candle on a flat heat-resistant surface void of drafts such as open windows, fans, children, pets, and hot surfaces. Never leave a burning candle unattended!