An Old Pair of Shoes & A Handful of Memories
"Rebecca?" she said.
"Yes Momma'?" I answered.
"I rescued these for you, I thought you might want them." she replied with tears in her eyes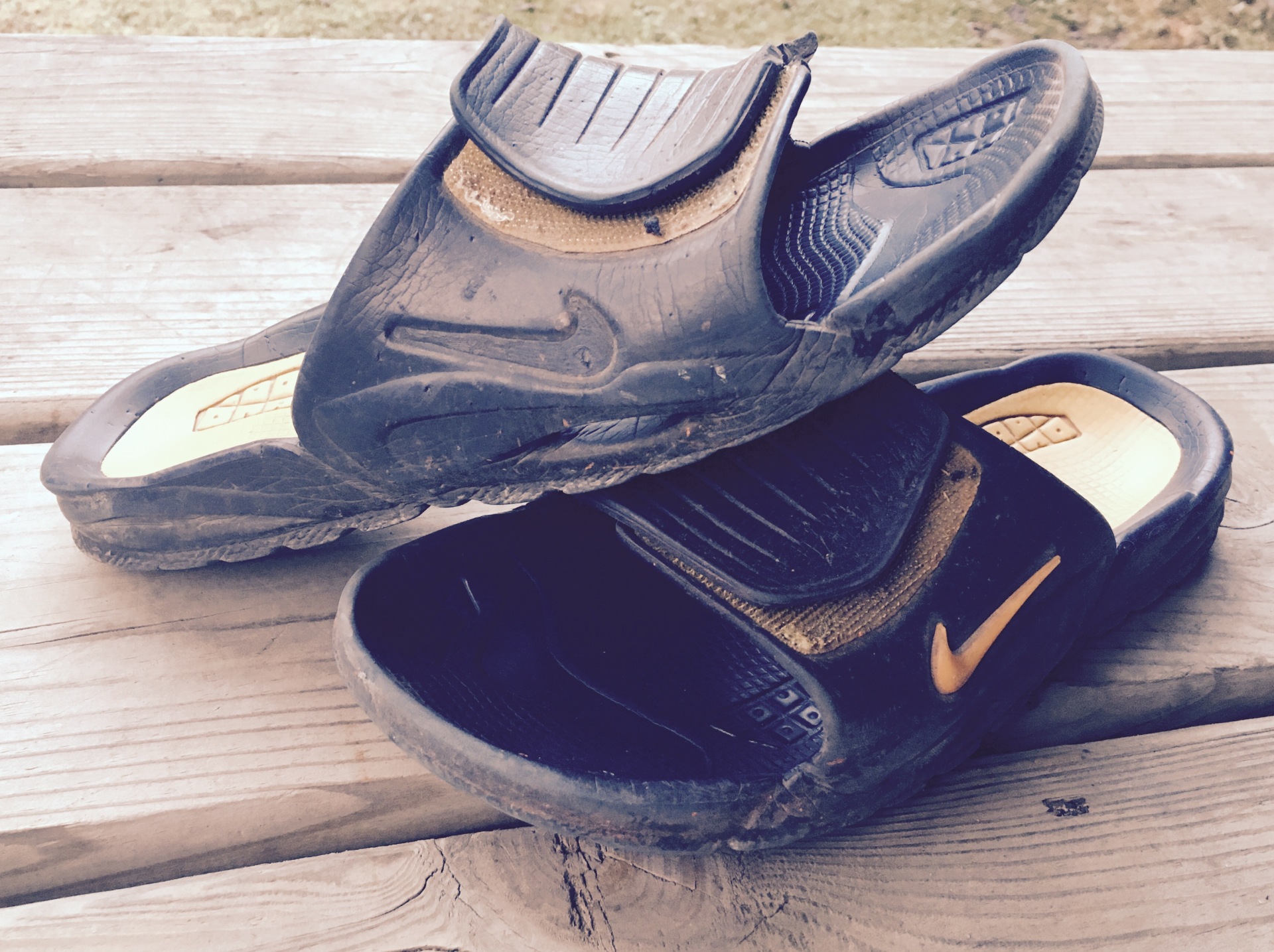 A week prior I had struggled to throw them in the trash since he had bought me a new pair to replace these ones. I think she knew how hard it had been for me to let them go. She even said at the moment I was doing it, "You can't throw those out! Those are older than all the kids Becky Dawn!"
"They are JUST OLD shoes Momma'!" I replied at the time.
Little did I know.
She handed them to me and suddenly for whatever reason I felt whole again. They were just an old pair of shoes, but there was certainly something special about them. It was the second time he had left my life with little to no other explanation than his "head was a mess." So here I was suspended in time, waiting, holding on to prayer & an old pair of shoes.
She turned before she walked away and said, "Sometimes God closes one door behind you because you can't open the one in front of you without letting go of what is behind you first. Sometimes Rebecca what is in front of you is WAY better than what you are leaving behind. I know they are "JUST OLD SHOES", but ONE day you will understand WHY they are so important! WHY you can't just throw them out with the trash, and someday you will THANK ME for keeping them! I promise you that much!"
I cracked a smile, which was hard considering the circumstances. "Momma', Thank You for raising us to never judge, to love like we do, and for never letting go even when it gets really hard sometimes."
She smiled back, even though her eyes told a different story, I knew that watching me hurt was hurting her equally as much if not worse. Even still she said, "I'm your Momma', it is my job to be your parent, but my God Given Right to LOVE you all the way I do. I may not have done it perfect, but I always did the very best that I could."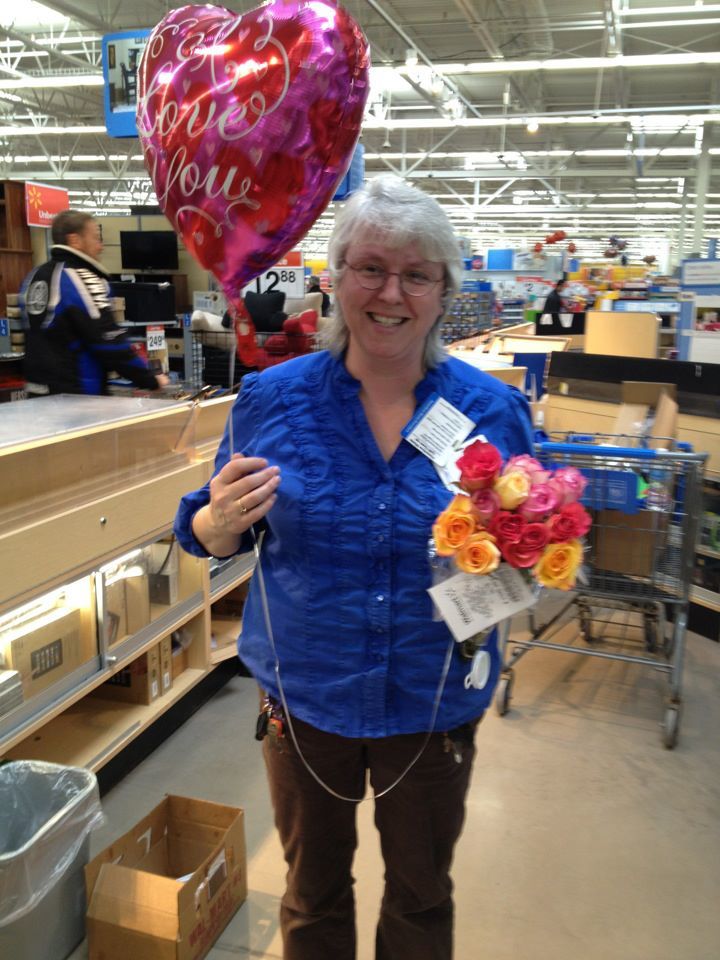 Now that woman, My Mother, she is a Saint. I'm sure she has two brothers and a sister that might argue different, but truth be told, she really is an angel sent to earth. There isn't a soul that hasn't met my mother that wouldn't say the same. I have never met another soul on this planet that gives more of themselves to others than my Mother! She is truly an inspiration, and someone that I admire greatly.
For whatever reason, she often questioned herself when it came to parenting over the years. Many, many times she felt she failed my brother, sister and I, when in reality she gave more than she even had in her Love Tank to us to make it work, to get it right, to keep it going, to keep us together, and above all else, keep us a FAMILY.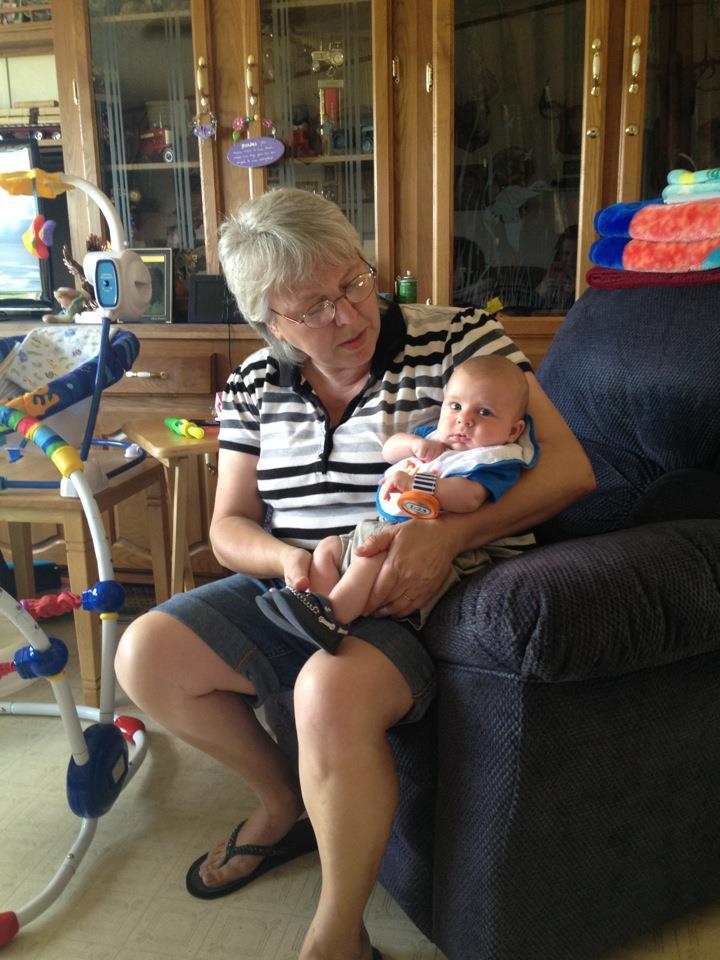 She was certainly her own worst critic, because she did an AMAZING job with all of us. Grandchildren included. She still does. I'm 36 years old and my Mother STILL parents me and I wouldn't have it any other way! It has NOT always been easy. I have bucked the system MORE than I have behaved, and even still she loves me more in the end than she did when we started.
She continually teaches me about life, love, hope, faith, prayer, God, my dreams, my children, my goals, my job, gardening, baking, cooking, spot cleaning, sewing, crafting, you name it, she has the answer, and she is a continuous wealth of knowledge! One I honestly wish I could sit down and just dictate until she was out of words. I refuse to even think of the day that I may not be able to call her or text her to ask her for something!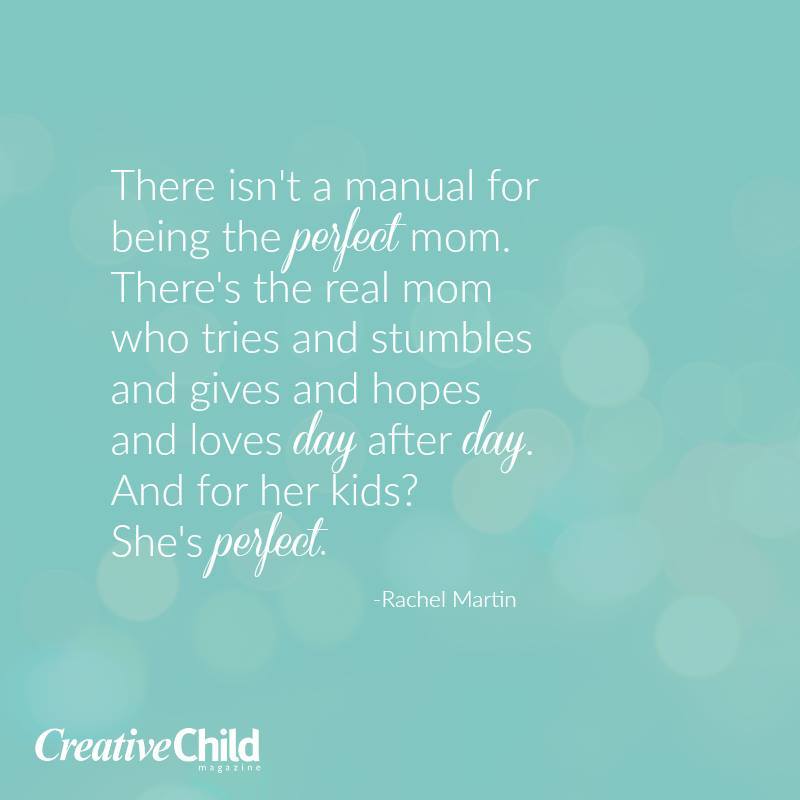 "Mom – You did just fine!" I said
"Maybe so, but some days I do certainly wish I had all the answers for you and your brother & sister." She replied, "Lord knows I certainly don't, so I just continue to pray and hope that he helps give me what I need to help all of you make it through."
I set the shoes on my bed, and walked over to hug her. It was one that brought tears to my eyes, the KIND of hug that you just NEED from your Momma'. She held on for just a few seconds longer, and when our embrace broke I could see tears in her eyes too.
"I don't have all the answers Rebecca, but I do have an old pair of shoes to give you." She nodded towards the bed. "At the end of the day if all you walked away with is an old pair of shoes, a handful of memories and you are no worse for the wear, you did O-K Kiddo'! YOU ARE GOING TO BE O-K!"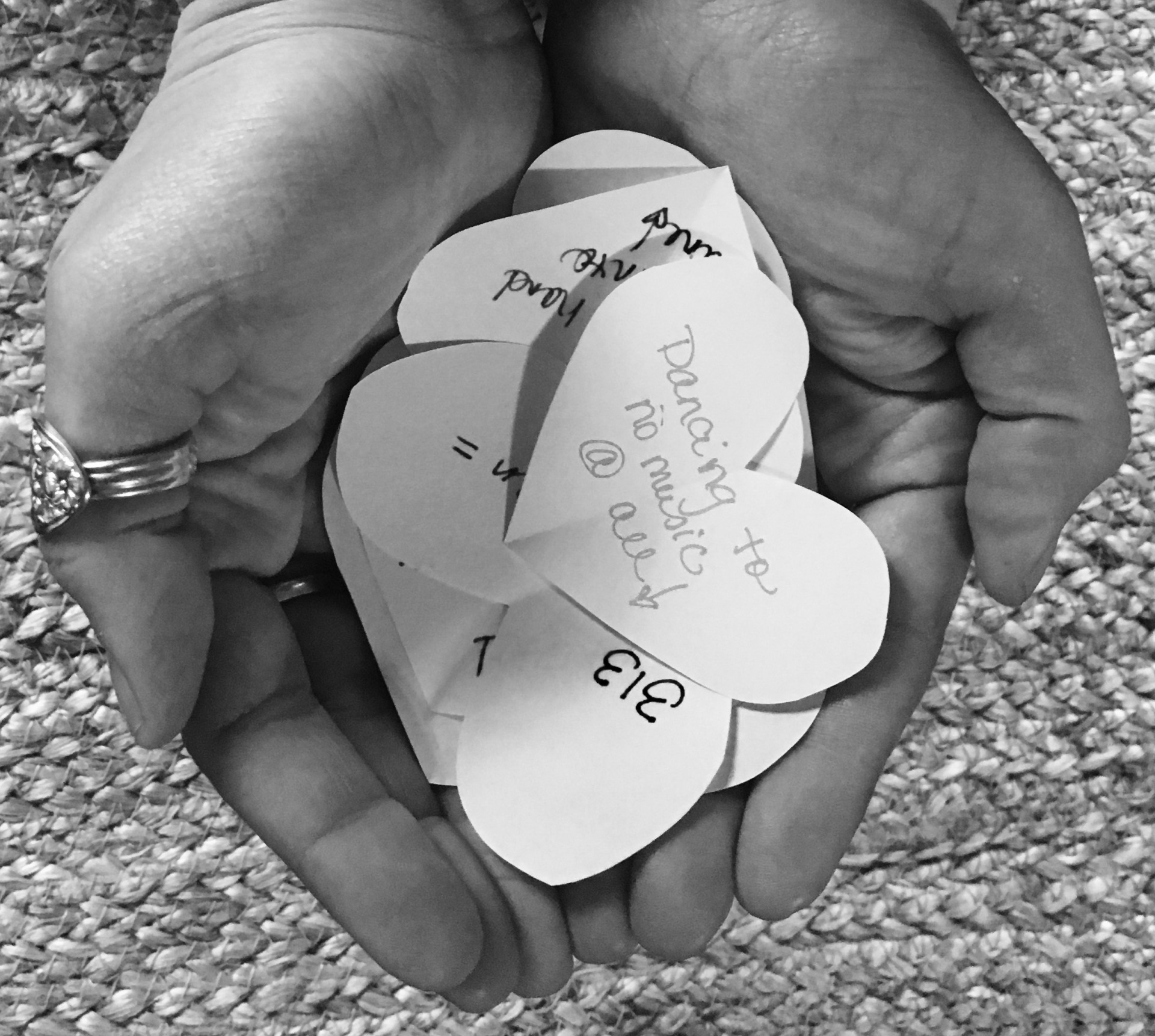 We hugged again and she went back upstairs.
I remember sitting next to my old pair of shoes for a REALLY long time and just looking at them. I didn't get it then, and that was over a year ago. It took me until today on a dirt road in Cheboygan to fully understand the "true meaning" behind that Old Pair of Shoes in my back seat of my work truck.
My Mother won't ever just come out and tell us the lessons behind something. It wouldn't be a lesson learned if she just told us the "GREATER" meaning behind what she is thinking or feeling. We must LEARN it, SEE it, FEEL it, or EXPERIENCE it for ourselves. Then when one of us text, call, or like me, blog about it, she can sit there and crack a smile knowing that a job was "Well Done!" no matter how long it took!
So today as I was working it finally hit me. I was closing the doors on my work truck and glanced down and saw my Old Pair of Shoes and I instantly smiled. My Mother was such a trickster! A sentimental one too! Then I laughed out loud, let me explain.
These shoes are going on 20 years old, maybe older, they have been through multiple boyfriends, two husbands, the birth of all 3 of my beautiful children, multiple softball tournaments, shopping trips, been my gardening shoes, gone through multiple basketball tournaments, cheerleading events, 4 wheeling adventures, boating trips, proms, parties, farm kid shenanagins, fairs, tractor pulls, YOU NAME IT THESE DIRTY, RATTY, OLD PAIR OF SHOES have done it and been there for it.
They have been looked down on, talked bad about, chewed up, spit out, and they are still TOUGH AS NAILS and Keep PUSHING FORWARD. Yeah, they have a few scars, a few bumps and bruises, and ultimately are NOT the prettiest things on this planet, but at the end of the day it isn't about the OLD PAIR OF SHOES – IT IS ABOUT THEIR STORY.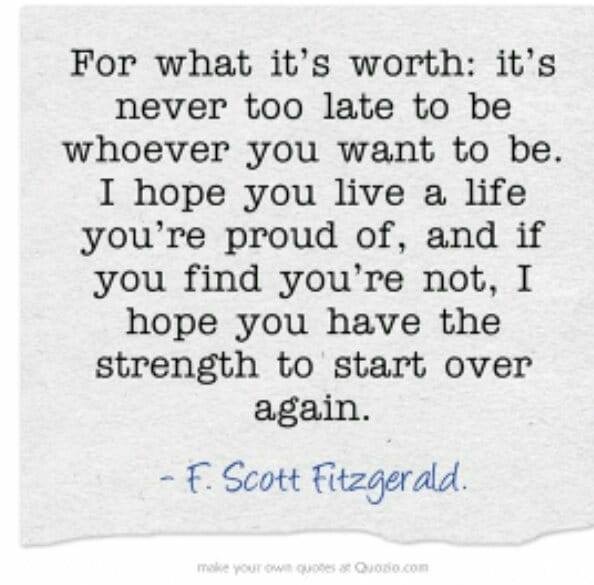 My Mother saved these shoes because ultimately, we are kind of one and the same the old pair of shoes and me. Not that we are OLD – that we have a STORY & that it is our STORY that REALLY matters. You don't have to have the BEST or BE the BEST to make that story great.
So even though today was probably the millionth time I slipped into my old pair of shoes after work today, it still felt like the very first time. I put one foot in front of the other and moved one more step forward away from my past and my closed door. I smile even now knowing that My Mother will be content reading this knowing that I FINALLY made the connection.
 As I packed away the other pair that he bought me to replace the ones I was wearing Morgan says, "Mom, I kind of liked your old ones better anyway." I cracked the biggest smile on my face as I put the bin back in my closet and replied, "Me too Kiddo'! ME TOO!" 
So even though I might only have an OLD PAIR OF SHOES & JUST A HANDFUL OF MEMORIES left at the end of the day.....my heart is whole, overflowing actually, and I am good with that. Like Nick once said to me, "They are One Directional Shoes!" So that means I let go of the closed door behind me, and reach for the closed one in front of me. 
So to my Momma' - Thank You for saving my OLD PAIR OF SHOES! As My OLD PAIR OF SHOES and I open a brand new door and move forward, I honestly can't Thank You enough. If you had asked me a year ago if I would be walking through said door wearing my OLD SHOES, I don't think I would have answered quite the same. Today, as I sit and reflect on the last year I can honestly tell you that the one thing I am proud to bring through my door is my OLD PAIR OF SHOES. Thank You for knowing me well enough to know that 1) I would NEED them and 2) I would eventually figure it out! Love you to the moon and back! <3